Press for They Might Be Toxic
New Book Helps People Identify Toxic Relationships FAST
 Toxic relationships are more common than people would like to admit. A lot of people are in toxic relationships, and they either have trouble recognizing this or don't know how to get out of the relationships. This is where author Maria Colomy comes in.
Maria has written a small but powerful book; They Might Be Toxic. The book is an eye-opener for anyone going through a toxic relationship.  (read more)
Women Writers, Books By Women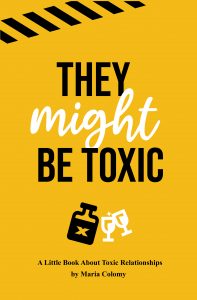 I wrote They Might Be Toxic after experiencing years of repeated patterns of toxic relationships. I've been a lifelong learner, and a teacher, so for me, sharing about this subject was only natural. (read more)
Pilar Casado
Maria Colomy
Hosts of They Might Be Toxic, Pilar & Maria share their honest experiences, growth, laughs and insights about their experiences with toxic relationships. You can connect with us in our Private Facebook Group, on Twitter, or Instagram.
They Might Be Toxic Book & eBook
A quick easy guide to help you identify unhealthy patterns in your relationships by looking at:
Similar relationship patterns at work, home, and in the family.

How much freedom and autonomy you have within the context of a relationship.

How you are spoken to and t

he language of abuse.

Phrases or insults that replay in your head.
This book is for everyone because abusive relationships exist everywhere. Whether at work or at home, whether a family member or a person you've hired the patterns of abusive relationships are common. A toxic relationship can rob you of your joy and take an enormous amount of energy.
This guide will help you begin to untangle the toxic relationships in your life by empowering you to see them for what they are.
[fts_instagram instagram_id=17841456053940436 access_token=IGQVJXOWcybmc5UXV4QVJiVi1IWk5TeWM5LXQyS3QtUVVGcEJSZATVLTksxWUx2a2lFNlBYOVNreW84cnFWS3E2UjJyQUVOZAEtZAUkdlXzd2TUdWWmhTRi1OajNoQmxSUFdUVV9TUkpR pics_count=6 type=basic width=80% super_gallery=yes columns=6 force_columns=no space_between_photos=1px icon_size=65px hide_date_likes_comments=no]